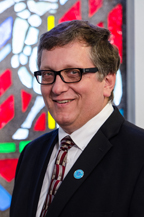 I walked out the door of my office to find that Luis, the courtesy driver from the car dealer had arrived. He was on the phone and signaled one minute. As he got off the phone he said, "oh that was the social worker calling about supervised visits for my ex-wife with the children." After showing concern I asked a couple of questions and found that Luis used a lot of God talk so I asked him on Orange Blossom Trail to tell me about Jesus. It was informative as I listened I heard of a man who had a love of Jesus but did not know Him as Savior. He said, "Jesus is our model, He shows us what we must do in order to be saved." I asked him what he must do and he said, "we must do good works and follow all ten "amendments," (yes he said, "amendments.") I asked him if he was good enough to go to heaven and he admitted if Jesus were to come now that he would certainly go to hell.
I did not want this conversation between Luis and me to end here but let me pause to say, I bet you know someone who is just like Luis. How sad it is they feel as though they somehow have to make themselves good enough to get in when you and I know Jesus has already paid the entire price and has gone to prepare a place for us in Heaven. My friends the bible is clear, all of us have sinned and gone astray none of us are righteous no not even one Paul says in Romans. The wages of sin is death and we are reminded of this daily as we face our own mortality that will one day occur.
I must tell you that my conversation with Luis is a work in progress, we have not yet arrived but he will continue to be in my prayers and I will look for other opportunities to connect with him. I want him to know that Jesus is more than a model, he is his Messiah and his Savior. I did ask him if we could be good enough by simply following Jesus as a model then why did Jesus have to die? I shared with him that God loved him so much that Jesus came to pay the price, the ultimate price – His life! "The blood of Christ cleanses us from all sins." 1 John 1:7 I want you my readers to know I saw my role as a seed sower not Savior or faith giver! I entrusted the work of conversion to the Holy Spirit and I thought it would be good for us to have a conversation here in this article about faith sharing.
I learned that we must always be ready to share the hope that is within us (1 Peter 3:15 b). I first learned this as a newspaper boy in Iowa. I do this sharing because of the love of Christ that is alive within me. I don't have to manufacture anything here, I just need to connect my story of His story in my life to their life. Simply put – be a witness, tell what Jesus means to me. I also needed to listen to his story and this is where I usually begin -listening. Let them talk you listen! Many times I probe around with a few questions that demonstrate care and concern for them and give me knowledge of areas in their life that Christ connections must be made. After hearing their story they are almost always ready to hear and listen to my story, the hope that is within me. Out of such natural, spontaneous conversations of grace God will step in and give you the words necessary. We need not make faith sharing more difficult than it is though it is life changing for both parties.
Submitted by,
Rev. Doug Kallesen
Executive Director of Outreach FL-GA District