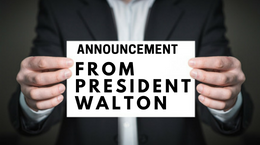 Dear Brothers and Sisters in Christ,
Greetings to you in the name of our Resurrected Savior Jesus!
With a bitter sweet joy I share with you information that was made public today regarding Daniel J. Reichard. As you know, Dan has done an outstanding job in his role as the District Vice President of Lutheran Church Extension Fund. We have not been the only ones who have taken notice. The National Office of Lutheran Church Extension Fund was pleased to announce earlier today that Mr. Daniel Reichard has been selected to serve LCEF as the Regional Vice President – East Region, effective Monday, April 30, 2018. This is a wonderful opportunity for Dan, and we rejoice with Andrea and he as he begins a new step in his ministry career.
We will begin seeking a replacement for the DVP position with LCEF very soon. However, this is a great opportunity for some reorganization within our District staff to better serve, assist and encourage our congregations. More details will be forthcoming in the next month. For now, join me in thanking Dan for his service to our District and wishing him well as he begins this new venture. As God has provided for LCEF in sending Dan, I am confident that He is already been fashioning our future as well! Our trust remains in the One who reminds us, "Blessed are those who don't see and yet believe!" Pray with me as we entrust the District staffing to the Almighty and most gracious Lord!
In His peace,
Rev. Gregory S. Walton, President
The Florida-Georgia District, LCMS
Subject: Personnel Announcement
I am pleased to announce Mr. Daniel Reichard has been selected to serve LCEF as the Regional Vice President – East Region, effective Monday, April 30, 2018.
Dan began his work with LCEF in 2010 and has served the Florida/Georgia District as District Vice President and Executive Director of Finance since that time.  Prior to joining the district staff, Dan spent nearly 30 years in a variety of positions, from entry-level accountant to senior leadership positions as Chief Financial Officer and Controller of several multi-million dollar manufacturing companies.  Dan holds an accounting degree from Northwood University in Midland, Michigan, and a MBA from Western Michigan University.  He also holds a Certified Public Accountant certification from the State of Wisconsin and is also a Certified Management Accountant.
Dan and his wife Andrea have been married for 32 years and have two married sons and two grandchildren.  They reside in Orlando and are members at Trinity Lutheran Church in downtown Orlando.
Please join me in congratulating Dan on his selection as the LCEF Regional Vice President for the East Region, and please keep the transition process in your prayers as Dan completes the important start-up work to get the East Region operational in Orlando, slated for July 1, 2018.  Dan's email (daniel.reichard@lcef.org) remains unchanged.  Full contact information, including the East Region Office contact info, will be forthcoming.
Rev. Bart Day
President and CEO
Lutheran Church Extension Fund
10733 Sunset Office Dr, Suite 300
St. Louis, MO 63127