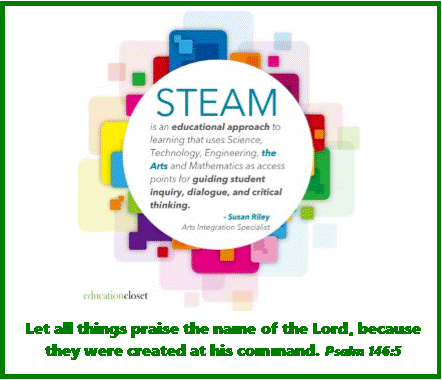 We are thrilled to invite our Early Childhood Directors and Assistant Directors to come to the 2017 EC Directors Conference.  All Early Childhood Directors and Assistant Directors or lead teachers are cordially invited and encouraged to attend this Conference.
THE GOAL OF THE CONFERENCE:
The goal of the Conference is to give the Early Childhood Directors concrete ideas to take back to their centers on the importance of play as a way for children to experience science, technology, engineering, art and math.
HOST

– Faith Lutheran Church

555 US #1, North Palm Beach, FL  33408 – Phone:  561-842-2487

COST:

First Staff Member – $50
Each additional staff member – $30
Pay fees upon completing registration
Meals are included in fees.

HOW TO PAY FOR CONFERENCE?

Pay online:  Use the link in the footer of this webpage that says: "Payments & Donations" to pay with a credit/debit card.  Choose Early Childhood Conference when paying.
Or, write a check, made payable to:  Florida-Georgia District.  Send it to:  5850 T G Lee Blvd. #500, Orlando, FL  32822
Registration is not complete until payment is made.  Your spot is not reserved until payment is received.

HOW TO REGISTER?

SCHEDULE – Friday, February 3, 2017

4:00 pm – Registration opens
5:00 – New Self eSTEAM – Part 1

Presenters:

Pastor Billy Brath
Mark Brink, FLGA District School Ministries Executive

6:00 – Dinner at Faith Lutheran Church
7:00 – New Self eSTEAM – Part 2
8:00 – Dismiss

OVERNIGHT LODGING

available

Super 8 Motel – 2 blocks away – for reservations:  561-848-1424
$119 Conference room rate

SCHEDULE – Saturday, February 4, 2017

8:00 am – Breakfast and Devotions
9:00 am – Morning Session 1

Environmental Ed EC Rating Scale – Yash Bhagwaji, Ph.D., presenter

ECEERS. The Early Childhood Environmental Education Rating Scale  provides a collaborative tool for educators to discuss the program philosophy, design and implementation, consider its strengths and areas of needed improvement, and chart a future direction for development.

10:30 am – Morning Session 2

"Growing Up Wild" Part 1 (Max 15 People) – Pilar Tucker & Kathy Knudtson (participants need to attend Part 1 & Part 2 to receive their certificate of completion.)

Growing Up Wild is an early childhood education program that builds on children's sense of wonder about nature and invites them to explore wildlife and the world around them.  Through a wide range of activities and experiences, Growing Up Wild provides an early foundation for developing positive impressions about nature and lifelong social and academic skills. You must attend both sessions to get Growing up Wild certification.

"Kaplan S.T.E.A.M. Resources

– Jamilet Diaz
"Educational Technology; Standards and What EC Educators Need to Know – Elizabeth Kenney M.Ed.

"Young children live in a world of interactive media. They are growing up at ease with digital devices that are rapidly becoming the tools of the culture at home, at school, at work, and in the community" (NAEYC, 2012, p. 2). This presentation will address technology integration into early childhood classrooms, considering the National Association for the Education of Young Children's Position Statement on technology and the International Society for Technology in Education's updated standards.

The Outdoor S.T.E.A.M. Classroom

– Ileana Barbari

How to use your outdoor space as a S.T.E.A.M. Clas.s The outdoor Classroom at St. Luke's was developed to have the same interest areas as the regular preschool classrooms. With that in mind we chose to develop a class that was primarily outside and infuse all the areas of Science, Technology, Engineering, The Arts and Math with a developmentally appropriate and hands on approach.

12:00 Noon – Lunch at church
1:00 pm Afternoon Session 3

"Growing Up Wild" Part 2

(Max 15 People) – Pilar Tucker & Kathy Knudtson

See description on Part 1.  This is the second part of the workshop.

"S.T.E.A.M. & Reuse!"

– Chelsea Odum

Resource Depot will give a presentation on different STEAM projects that can be done with reused materials and participants will actively make a project that they can take with them. Presentation will touch on all the areas of STEAM.

"Play and Learning:  The Importance of Indoor and Outdoor Play"

– Elizabeth Kenney, M.Ed

Play is a vital activity for children in early childhood classrooms, one that promotes development and learning. This presentation will start with an examination of the benefits of indoor and outdoor play for young children, will include a conversation on the various types of play, and will conclude with a discussion of teachers' roles in promoting play before, during, and after play.

IN-SERVICE POINTS 

– Earn up to 10 In-Service Points by attending both days of the Conference.
Register Now