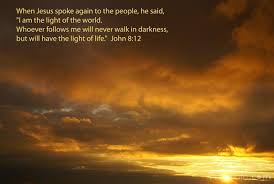 Arriving back in the office after an extended time away is always a challenge. Even when I'm on the road for various activities and come back to the office the mail and email quickly mounts. It will take a little while to catch up after this sabbatical. Kathy Keene did an excellent job of keeping things in order and staying on top of pressing issues along with our very capable staff. Our Regional Vice Presidents graciously took turns being "in residence" during these few months, and while they often had their hands full, they did not miss a beat and I was always confident that the District was in good hands.
As I was going through one of the various piles of mail awaiting my return, I came across our Synod's Mission magazine, "Lutherans Engage the World." I flipped through it and found some fascinating and wonderful and informative articles about ministry happening in various places across the world. As I set the magazine back on my desk the name kept jumping out at me, not as a title, but rather as a direction or a command. Instead of it being a heading, it was as if it were shouting out to me, "Lutherans: ENGAGE THE WORLD!!" Isn't this exactly what our call as disciples of the Lord Jesus is all about?
I suspect that most people who would take time to read a blog like this are already believers in Jesus, that somehow the good news of the life, death and resurrection of Jesus has impacted your life. We know that in the midst of a sinful and often hopeless world that there is great hope in Jesus! So when we hear about world events like the things that have happened in Ferguson, MO, or the terror cells of Isis, or even the crimes happening in our own communities, we can lament how terrible this world has become, or we can see this as God's call for us to engage the world with the message of Jesus, who is our hope and salvation. He alone can forgive our sins and renew us from the inside out. He alone can give meaning, purpose and help us make sense out of an often crazy world.
How can we better engage the world around us? In our day it is less likely that putting up a new sign with glowing letters announcing our presence in the community will have an impact. Even offering the greatest VBS program or food bank or day care seems to have little relevance beyond serving the specific need of a place to drop the kids, get needed food, or garner a good education. During my sabbatical I worshipped in a variety of Lutheran Churches across the United States, and sadly, I would have to say that some were not what I would consider "engaging." In fact, had I not been a Lutheran looking for an LCMS congregation and just happened to walk in cold to some of these places, I would have walked out the same way. Some remember the days when all you had to do was open the doors and people would come to church. I can't honestly say that I ever remember, in my lifetime, it being quite that easy, but it certainly was easier than it is today.
The other day Edith and I were engaged in a conversation with a friend about the demise in society and the church today. My friend stated that he feels this is due, in part, to the entitlement attitude that is so pervasive in our world today. You see it all around us—in families, in schools, in businesses, and yes, even in churches. What an entitlement attitude does is put self first. It's all about me, about what serves me, about what I like or dislike and about what makes me comfortable or causes discomfort. It's about choices and freedom rather than commitment. It's been called the throwaway society, because if we get tired of it, we throw it away and get something new. In families it often is seen when a family member thinks only of themselves rather than recognizing the impact it has on others. This attitude creeps into the church when the concern turns from caring about the salvation of the lost and sharing the grace of Jesus with them to caring for creature comforts that only serve those who already know Jesus. It seems that so much of what the church does to engage the world is on our terms, so long as it fits in our paradigm and conforms to what we often deem as acceptable standards. We aren't alone.
In Mark 9:33-37 we read, "They came to Capernaum. When he was in the house, he asked them, 'What were you arguing about on the road?' But they kept quiet because on the way they had argued about who was the greatest. Sitting down, Jesus called the Twelve and said, 'If anyone wants to be first, he must be the very last, and the servant of all.' He took a little child and had him stand among them. Taking him in his arms, he said to them, 'Whoever welcomes one of these little children in my name welcomes me; and whoever welcomes me does not welcome me but the one who sent me.'"  Let me simply say three things here. First, the disciples were embarrassed, and rightly so, because their concern was about jockeying for position rather than the ministry Jesus had been modeling for them. Secondly, Jesus doesn't scold them, but rather, in His great compassion, He continues to teach them about servanthood. In fact, He illustrates this by picking up that child and reminding them of the mission, serving people—even the smallest child, with His love and grace. Thirdly, what Jesus is really pointing His disciples to, and us as well, is the fact that it all comes down to relationship. This is how I believe we're called to engage the world.
What impacts this wayward world, my dear Lutheran brothers and sisters, is the method Jesus has modeled for each of us to engage the world by investing the time and energy into building relationship.
There are no quick fixes and often no immediate results. To spend the time to build relationship can get messy and involved. It means listening, and potentially sacrificing our time and resources and serving others in Jesus' name. It may mean opening our homes and hearts, taking our sights off ourselves and looking at life through the eternal lenses of Jesus. Life changes when we begin to care about other people and engage them for the sake of Jesus.
Earlier this summer Edith and I learned that we will become grandparents later this year. I can't begin to tell you how excited we are, and look forward to this little girl being part of our lives. I've already begun learning how to spoil her. I guarantee that despite messy diapers, despite the potentially cranky moments (I mean her, not me…) despite the things that will no doubt get broken or messed up, this little girl will have the love of her grandparents, and we will do everything in our power to build a relationship with her. In fact, that was modeled to us by our parents who are awesome grandparents!
Jesus gave us a terrific model in Himself. It is about building relationships. So my plea, and the command of Jesus is, "Lutherans—let's engage the world!" That's the mission He's given us. Let's invest ourselves in others for others for the sake of eternity and connecting people to Jesus! Won't you join me?
With you in the Mission of Jesus,
Greg
Rev. Gregory S. Walton, President
FLGA District, LCMS