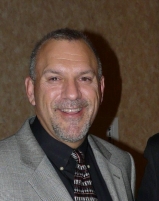 Dear Friends,
It's hard to believe that once again the season of Christmas is upon us. Of course, in many places it began as soon as the Halloween pumpkins and candy had been set aside. We have a special time in the Church that leads us to the manger. We call it the season of Advent, a season that prepares us for His coming again into the world, and into our hearts.
Observations of Advent seem to be less and less important in the life of the Church. I'm always a bit sad when I learn that congregations have determined not to hold Advent services because not enough people are interested or able to attend. Apart from the fellowship that often takes place at the dinner hour before worship or the coffee hour following worship, or in some cases both, there is the whole issue of setting aside some quiet time to reflect and to make our hearts ready for the celebration.
Advent is an anglicized version of the Latin word adventus, meaning "coming", which originally comes from the Greek word parousia, commonly used to refer to the Second Coming of Jesus. In the Church it is the beginning of the liturgical Church Year. The first Sunday of Advent is the Sunday nearest the feast of St. Andrew the Apostle which is on November 30th. The liturgical color for this season is deep purple, reminding us of the penitential nature of this time, although many have moved to using the color blue, representing hope as we look to the future and to distinguish the season from Lent. Some trace the establishment of the observance of this season as far back as the 6th Century AD, under the auspices of Pope Gregory the Great—one of my favorite popes… He directed the attention on anticipation of the "coming" of Jesus. The focus was on the return of Jesus, something we should continue to strive for today.
How do you prepare? There are numerous ways that Advent is observed beyond the church so that homes can also be prepared to receive the Christ-child. Advent Calendars and Advent Wreaths are common in Christian homes and help count down to the celebration of Christmas. My wife used to make an Advent Chain with our children and each day a link would be removed during family devotions. Special daily Advent devotions can build anticipation for a truer and more joyous celebration of Christmas. Regardless of how you celebrate or prepare, it's all about Jesus.
Isaiah reminds us, "For to us a child is born, to us a son is given, and the government will be on his shoulders. And he will be called Wonderful Counselor, Mighty God, Everlasting Father, Prince of Peace" (Is 9:6). What Advent prepares us for is the Incarnate God, who came in the form of a vulnerable baby, who would save all humanity from the power of sin. That's why Jesus is the greatest of all gifts who gives us new life forever. He humbled Himself, became like us to save us from our sin. He saved us so that we might be His presence in the world. As God became like us, now the call is for us to become more like Him. Paul writes, "Follow my example as I follow the example of Christ" (1 Cor. 10:11). Paul was living an "incarnational" life, showing the love and grace of Jesus in his very being.
What does it mean to be incarnational? It means that we take the teaching of Jesus and follow His example. It means we actually find ways to live out our faith in concrete ways. It means that we don't simply observe the season of Advent as some obligation or ritual, but we look for opportunities to truly prepare ourselves and the world for the return of Jesus. It means we do more than light candles on an Advent Wreath, but we actually become the light of Jesus in the world. It means that we take this wonderful, beautiful message of Christmas, of the Incarnation of Jesus, and share it with a world that is often moving at such a hectic pace that they miss the true joy of this season.
I believe this is the opportunity Advent offers each of us. We can spend our time of preparation by decorating and even worshipping. But at the end of the day, what really can make a difference for the sake of Jesus is living an incarnational life—being the presence of Jesus in the world around us. No, I'm not suggesting that we can become Jesus. However, how often I think I could be more Christ-like in how I treat others. How often I miss opportunities to share why the season of Advent is special or why I love to celebrate Christmas.  I believe that as we approach this season God's call to us is to be incarnational people, reflecting the beauty, the love, the joy and peace of Jesus in a world that often finds its hope in tinsel and wrapping paper.
God calls us to be prepared, but not just in what we know, but also in what we do. Peter writes, "Therefore, prepare your minds for action; be self-controlled; set your hope fully on the grace to be given you when Jesus Christ is revealed" (1 Peter 1:13). We are the hands and feet of Jesus in the world to proclaim that this season can be so much more than parties and colorful trees; shopping and family gatherings. This season we can make a huge difference in the lives of others as they see Jesus living in us. It's not the spirit of the season that matters as much as the Spirit who lives within us. And as we gather around the Word and Sacraments this Advent season, look not only for those opportunities to worship, but also to serve in the name and stead of Jesus.
Advent is a time to prepare and remember that Jesus is coming back. His call to each of us is to represent Him until He returns as we connect others to Him. He invites us to become incarnational people, showing His love this season and all seasons as we work together to equip, empower and engage to connect people to Jesus.
May the joy of this Adventide prepare your heart and your home for a joyous celebration of Christmas as we eagerly await the return of Jesus.
In His Advent peace,
Greg
Rev. Gregory S. Walton, President
FLGA District, LCMS


If you're looking for some good Advent devotional ideas, check out:
LHM.org/Advent (Spanish version available too)
LCMS.org/Christmas-Advent