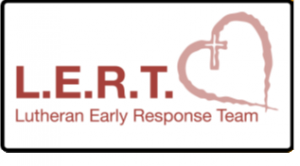 In cooperation and coordination with The Lutheran Church-Missouri Synod Office of Disaster Response, the Florida-Georgia District, LCMS announces the next District sponsored Lutheran Early Response Team (LERT) Training session.   Responding to a disaster is a vital part of who we are as members of The Lutheran Church—Missouri Synod.  Responding to a disaster allows a congregation to confess Christ to their community, region and world in ways they may have never considered before. The central premise of the LCMS Disaster Response ministry's training is rooted in this verse "We love because He first loved us" (1 John 4:19, ESV).
The training you receive is rooted within our worship where our Triune God first showed His love to us through the death and resurrection of Christ. We see this love as we are washed in Baptism, fed in the Lord's Supper and continually nourished through the Word. These ways in which God has shown His mercy and love to us are now turned outwards to our community. Since we have seen God's mercy shown to us in worship, we can now show that same mercy to members in our community. This training session will address the nature of disasters and explore what our response should be to a disas­ter as members of the LCMS. Using worship as our backdrop, we will explore how Christ has shown mercy to us, and how we can show this world the same Christ-like mercy as we have seen.
The goal of this training is to help congregations and individual members to be better prepared for when a disaster strikes and know how to respond not only within their congregation, but to also respond in Word and deed within their greater community.  Attendees will receive Disaster Response credentials that will give them the ability to enter disaster zones in coordinated LCMS teams to lend aid to those in need.
There are currently 3 LERT Training Opportunities available.
---
UPCOMING TRAINING EVENT – Lutheran Early Response Team (LERT).
November 11 
Christ the King Lutheran Church
11220 Oakhurst Rd
Largo, FL.
Basic disaster response training.
Registration starts 8:30
Training: 9:00 – 3:00
Lunch provided
Cost: $25
Contact: Rev. Joseph Adams
(727)595-2117
office@ctklc.org
---