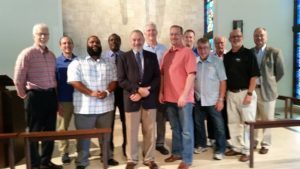 On Monday, Jan. 22, Tim Hartner, Pastor of St. Paul Lutheran, Weston, FL, (and also Circuit Visitor for the Gold Coast Circuit of the FL-GA District of the Lutheran Church Missouri Synod "LCMS"), invited me to join the group that was gathering at his Church that day.
Tim and I go …. WAY BACK!! My former congregation, Gloria Dei Lutheran, Davie, assisted in the beginnings of St. Paul, Weston, back in '88.  The occasion was a visit from the FL-GA District President, Greg Walton.  It was great to be with twelve guys!! Many were pastors of Broward County LCMS Churches … and a few others.
Having spent 33 years of my ministry ('77-'10) in Broward County and still living part-time in Davie (just west of Ft. Lauderdale), These were folks, many who I have worked closely with …. AND FOLKS I KNOW WELL!!
My current part-time pastoral ministry (for the past seven years) is, Bethlehem, Ft. Myers. …. Linda and I spend part of each week in Ft. Myers.  Tim, thank you for the invitation!! It was great to be with all of you.  Broward County is blessed to have the presence and dedication of these dedicated Christian leaders!!
(in this photo) Mark Abram, retired; Jeremy Becker, DCE, St. Paul, Weston; Sequincy Pratt, Worship Leader, Good Shepherd, Ft. Lauderdale; Bernard Julmiste, Grace Tabernacle, Ft. Lauderale, Greg Walton, FL-GA Dist. President; Jeff Moore, Interim Pastor, Our Savior, Plantation; Jeff Johnson, Miramar, Miramar; Stephen Reynolds, Shepherd of the Coast, Ft. Lauderdale, Chuck Rogers, Lay Leader, Faith, Ft. Lauderdale; Elmer Medley, retired; Tim Hartner, St. Paul, Weston and C Scott Gress, Lutheran Counseling Services, Orlando.  (as I took the photo… I am not pictured)
by Rev. Darrell Stuehrenberg