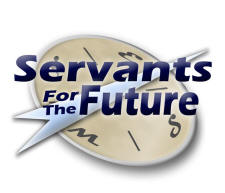 Servants for the Future was established by the Florida-Georgia District Board of Directors in November of 2006 as an endowment fund to provide financial resources to support student aid and scholarships for those preparing for church work careers in the Concordia University System and the Concordia Seminaries (including distance education programs), and to expand campus ministry in the District.
Gathering money to initiate this Endowment Fund was a major part of the District's 60th anniversary celebration in 2008. 175 pastors and other professional church workers led the way in contributing almost $75,000 in gifts and pledges; other gifts and pledges brought the total commitments to almost $325,000.
Tremendous opportunities call for support of Servants for the Future. The 60th anniversary fundraising initiative was the first step toward eventually gathering a $10 million endowment to more fully fund the training of leaders for the Lord's mission.
Student aid is needed both for those who pursue the traditional residential track for church work preparation as well as those utilizing the nontraditional, distance, contextual model to prepare. Given the cultural diversity in our District, we have students in the Ethnic Immigrant Institute of Theology (EIIT), the Center for Hispanic Studies (CHS), the Specific Ministry Pastor (SMP) programs and others utilizing distance education to prepare for commissioned minister positions such as Teacher, Deaconess, Director of Christian Education (DCE), Director of Christian Outreach (DCO), Director of Parish Music (DPM), the Certified Lay Minister (CLM) and the like. Costs for residential and distance programs are such that most students, their families, and congregations are unable to provide all the necessary funding themselves. Through Servants for the Future the District will be able to help fill the gap.
Further, if the church is going to have mature, well-grounded Christian lay men and women serving in the fields of education, business, government, entertainment, the media and the like—as well as in our congregations—the District believes a network of healthy campus ministries is necessary. Over 20 congregations who are adjacent to institutions of higher learning in our District have been identified who could sponsor such campus ministries. Servants for the Future will provide funds to assist congregations in establishing and sustaining such ministries as a vital part of their outreach.
We encourage all members to remember this fund with an annual gift, a one time offering, or a major gift to sponsor a scholarship or a campus ministry. Gifts of $50,000 or more bring with them the privilege of naming the gift in memory of an individual or to honor someone, such as a pastor, teacher, or dedicated lay person. These funds will go toward our sons and daughters, our grandchildren, brothers and sisters in Christ, who have been called by God to a specific ministry within his church—or to provide campus ministry to equip our college students for their service as God's people in the world. Your help will perpetuate our Lord's work through dedicated servants well into the future.
You can initiate a pledge by completing the form below.
You can make a credit card contribution today by visiting the District website Online Donations page.
Also you may use a great service called Joyful Response, which is an automatic donation program through Lutheran Church Extension Fund to simplify personal commitment payments. For more information on that contact Kathy Keene in the District Office.