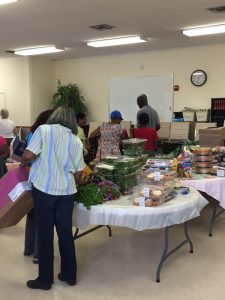 A ministry of Risen Savior Lutheran Church….
Dear Friends,
Today was Organized Chaos to say the least. We were blessed with 15,000 pounds of food that was distributed to 861 people. Between the paperwork and extreme heat (Heat index 101), it was a challenging day.
Once a year our clients have to fill out their paperwork coinciding with the Federal fiscal year.  Today was our first day.  It is only 7 questions but it is amazing how that can throw us off by changing our cadence. We were there 45 minutes later tonight than last week which had been a record week.
This week the favorites were cereal that we purchased thanks to an extra donation and apple-cherry juice.  The clients love juice even though it makes the boxes heavier.  They also appreciated the oil and egg noodles along with all the other goodies.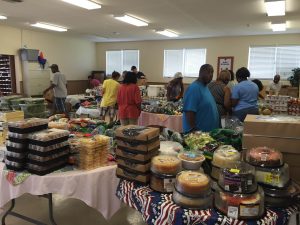 We are truly blessed in that every cent donated goes to food. A volunteer comes each week and takes the excess cardboard and encourages our clients to also take some. In this way, we don't need a dumpster.  Volunteers use their own vehicles and gas at least twice a week to pick up our food supplies.   Printing and paper have been donated. Fully 100% of donations go to food or toiletries.  The local grocery stores have even been giving us the bags to wrap sandwiches in. This is why we have been able to do so much with so little. God has blessed us.
Fred  R. Anderson
Council President
Risen Savior Lutheran Church
"Changing Lives by Proclaiming our Risen Savior"