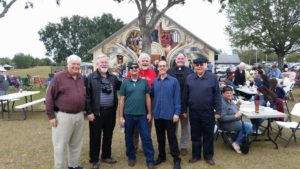 The artist, who was present and spoke, earlier dedicated three months of his time (in 2017) to complete this beautiful "500th Anniversary of the Protestant Reformation" mural, painted on one of the outside walls of Trinity Lutheran Church, Lake Placid, FL. This mural joins some 47 other beautiful murals that are on the outside walls of many of the buildings in downtown Lake Placid.
Take a trip to this delightful city in central Florida (on US27) between Sebring and Clewiston. Spend some time enjoying these murals …. BUT DON'T MISS THE BEST MURAL OF ALL ….. ON THE WALL OF TRINITY LUTHERAN CHURCH!!
The Trinity Lutheran family TRULY showed great hospitality to all attending, on this beautiful day!! The weather was perfect for this outdoor event.
Between 250 and 300 folks were in attendance. A Martin Luther Impersonator (Gary Schusckle) did a MAGNIFICENT presentation. A Southern Gospel Singing Group entertained the attenders …. AND … Trinity served a DELICIOUS Bratwurst and Sauerkraut lunch ….
AT NO COST TO THE ATTENDEES!!
Thank you, Rev. Richard Norris and the Trinity family!!
YOU ALL DID GOOD!!
(from the left) Darrell Stuehrenberg, Bethlehem, Ft. Myers; John Hirst, Peace, Okeechobee; Anthony Arias, Grace, Arcadia; Richard Norris, Trinity, Lake Placid; Robert Maulella, Faith, Sebring; Gary Schusckle, St. Luke, Oviedo (he was the Martin Luther Impersonator