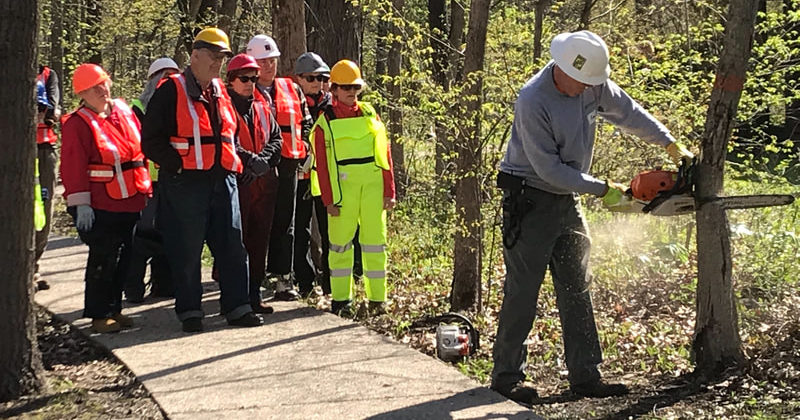 During the recent hurricane season, the FLGA District was mostly spared from major hurricane activity.  Since we know that hurricane season comes every year,  we want to be prepared for the next disaster.  The Florida-Georgia District, in partnership with the Mercy in Action Team based out of Messiah Lutheran in Tampa, FL will provide chainsaw training starting in the first quarter of 2021 throughout the District.  Following a disaster, people with chainsaw skills are in high demand.  That is why the Florida-Georgia District wants to equip Lutheran Early Response Team (LERT) members the ability to provide this service safely and efficiently.
During the training, you will learn the following:
how to cut down trees
how to buck and limb fallen trees
the physics of felling trees
how to clear debris in a safe and beneficial manner
safety with chainsaws
personal protective equipment(PPE)
The chainsaw training serves to increase our dedicated volunteers' capabilities and give them added capacity to extend mercy to those who haven't the means or skills to perform this dangerous work in their communities. We currently have 3 confirmed classes: 1 in Florida and 3 in Georgia.  You can register at the link below.
April 10, 2021 – St. Paul, Boca Raton, FL
April 27, 2021 – The Pelican, Naples, FL
When disaster strikes, you will work with local LCMS congregations.  Everything is done in the name of Christ, it is a way, in difficult times, for the church to be the light of Christ in very tangible ways.  People have been extremely receptive, even people of different faiths and religions receive help with thanksgiving.
If you would like to sponsor a LERT training or chainsaw training event, please contact Jay Wendland, FLGA District Disaster Relief Coordinator at 407-258-5041 or you may email Jay at jwendland@flgadistrict.org.
LERT is a mercy-based group, "We show the love of Christ to people who are hurting and in need.