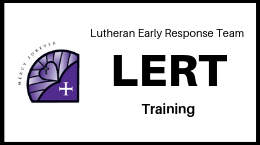 Responding to a disaster is a vital part of who we are as members of The Lutheran Church—Missouri Synod. Responding to a disaster allows a congregation to confess Christ to their community, region and world in ways they may have never considered before.
LERT Training helps prepare congregations and individual members to be better prepared when a disaster strikes, and helps them know how to respond in word and deed within their community. Sign up now so you may help "when disaster strikes."
All sessions begin at 9 am and end at 3 pm. Lunch is provided. There is a $20 registration fee for all attendees.
Training sessions are scheduled for these locations:
Christ the King, Largo – August 24
St. Paul, Boca Raton – September 14