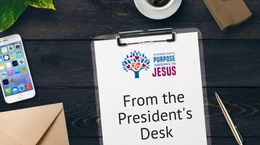 A Time of Growth and Learning
Remember the old song: "School days, school days; Dear old Golden Rule days; 'Reading and 'riting and 'rithmetic Taught to the tune of the hick'ry stick…"
This was a popular song written in 1907 by Will Cobb and Gus Edwards which focused on a mature couple looking back sentimentally on their childhood together in primary school. Every year, in the days leading up to Labor Day, my mother would wake up singing this song in anticipation of my siblings and me going back to school. As I was growing up Labor Day was always met with mixed sentiment. We generally had a family barbeque with extended family, so it was always fun to celebrate, but it also marked the end of summer and the next day school started. Of course, all across Florida and Georgia schools have been in session close to a month already. How things have changed!
Remembering the feeling of going back to school for me was like jumping into the swimming pool. After the initial shock, I would acclimate quickly and get excited about the opportunities ahead. There were always new notebooks with empty pages, there were the new text books, and, of course, the new shoes. Some of those days were very fun, and when I think back to all I've learned I know it never ends. We are constantly growing and learning.
People have the capacity to learn very quickly. Take, for example, the story of some girls at a private school. There was a group of 12-year-old girls who were beginning to use lipstick and would put it on in the bathroom. That was fine, but after they put on their lipstick they would press their lips to the mirror, leaving dozens of little lip prints. Every night, the custodian would remove them and the next day, the girls would put them back. The poor custodian went to the principal demanding something be done. The wise principal came up with a plan. The next day she called all the girls to the bathroom and met them there with the custodian. She explained that all these lip prints were causing a major problem for the custodian who had to clean the mirrors every night. To help make the point, she wanted them to see how difficult it was for the custodian to clean the mirrors. She asked the custodian to demonstrate and this is what he did. He took out a long-handled squeegee, dipped it in the toilet, and cleaned the mirror with it. After about four dips, it all came off. The principal reported that surprisingly since then, there have been no lip prints on the mirror. There are teachers, and then there are educators…
Learning is essential. Ben Franklin once said, "Tell me and I forget, teach me and I may remember, involve me and I learn." That's why it's so important that when we learn, we implement and use the knowledge to help others grow. In Deuteronomy 6 we read, "You shall love the LORD your God with all your heart and with all your soul and with all your might. And these words that I command you today shall be on your heart. You shall teach them diligently to your children, and shall talk of them when you sit in your house, and when you walk by the way, and when you lie down, and when you rise." As those who are believers in Jesus, we know, just like the original twelve disciples, that growth and learning never end. This side of heaven we will never have perfect knowledge. Mahatma Gandhi once wisely said, "Live as if you were to die tomorrow. Learn as if you were to live forever." We have a true motivation to live and to learn. Confident of our eternity because of the blood Jesus shed on the Cross, we can boldly share the good news with those who fear death that they, too, can live forever. Imagine how the Gospel might spread in the world if believers would boldly begin sharing the love of Jesus with those lost in sin?
Each of us have the great and blessed opportunity to become evangelists for Jesus. God has given us His Word and Sacrament to empower us and "educate" us to spread the good news. He wills that all people be saved and come to the knowledge of the truth. He's counting on us to share His love, forgiveness and grace with a needy world. In fact, Dr. Seuss said, "The more you read, the more things you will know. The more you learn, the more places you'll go." Oh, the places you could go!
As we celebrate the 70 th Anniversary of the Florida-Georgia District and consider all the places where mission and ministry has gone, it is an amazing story. From little missions that gathered people in places like Delray Beach and Ft. Lauderdale, Tampa and Orlando, Atlanta and Rome, GA, God has blessed the mission endeavors of this District in so many ways. However, there is still more to be done.
Recently, at the Lay Leadership Summit, we had about 165 people, mostly laity, who gathered to celebrate their faith and to come learn and grow. Several of the presenters marveled at the level of interest and participation of those who attended. They were eager to drink in as much knowledge as they could, not just to learn, but to take it back and implement it. This is our calling. We can get caught up in so many time-consuming endeavors that we miss God's call for us to tell the good news of Jesus. In fact, I am convinced that Satan has a strategy for us to reach the saved so that we have no time to reach the lost. Yet this is His call on our lives.
As we look to the future, the challenge before us is to start two new ministries in each region each year for the next five years. We already see that happening as new ministries are popping up. I had the privilege of helping to dedicate a new Early Learning Center in Oxford, FL, right outside of The Villages. We have mission work begun in a new area near Port St. Lucie thanks to Redeemer Lutheran Church in Stuart. We have a whole network of congregations in Northeast Georgia working together to support and encourage one another as they carry out the mission of Jesus in a unique part of the world.
Will you join us and make a difference for the sake of the Kingdom of God? William James, American philosopher and psychologist, once said, "Let everything you do be done as if to make a difference." Surprisingly, James, who was not known for being a Christian, was right on the mark. Paul said it this way, "Let the word of Christ dwell in you richly, teaching and admonishing one another in all wisdom, singing psalms and hymns and spiritual songs, with thankfulness in your hearts to God. And whatever you do, in word or deed, do everything in the name of the Lord Jesus, giving thanks to God the Father through him." (Col 3:16–17).
I know that I have much still to learn. In fact, the more I know, the more I know what I don't know! What I do know is that people don't care how much you know until they know how much you care. We have an opportunity to make an eternal difference in the lives of people right within our own communities.
Labor Day is a great time to remember that Jesus has called us to labor in His harvest field, and that we still have much to learn! It's time to go back to school to learn how best to serve Jesus! Please join me on this journey!
Peace,
Greg