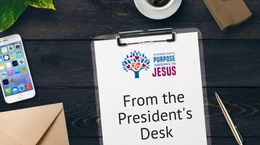 Dear Friends,
Last month I was in St. Louis for the Council of President's meeting and assignment of calls for vicarage and placement of candidates. It was a wonderful week of anticipation and joy for those receiving the calls. I also had the opportunity to connect with an old college friend who serves on the staff of one of our ministries in the St. Louis area. He took me to a place called CRAVE. It's a little coffee house, tucked away in downtown St. Louis near the St. Louis University campus. There are an abundance of coffee houses in St. Louis. In fact, I'm pretty sure that in the downtown area you can find a Starbucks on every other corner. What makes this coffee house different is that it used to be a Lutheran Church.
My friend told me that Crave Coffeehouse was started a number of years ago as a re-boot of sorts for Christ in the City Lutheran Church located right on the edge of the SLU Medical Center campus. Their 100+ year old sanctuary was converted into a Breakfast and Lunch coffee house which apparently operated alongside the small congregational ministry. The ministry continued to diminish, but the coffee house remained steady and relatively healthy. Over a long two year process, "Christ in the City" officially dissolved, and, with the Missouri District's help, Christ Memorial Lutheran Church, a thriving ministry, took over the remaining debt as the purchase price for the building and began operating it. Now it is open Monday through Friday as a coffeehouse with a limited menu, but closed on the weekends. On Sunday evenings there is a non-traditional Lutheran worshipping community meeting there, and the ministry has grown so much that they recently hired a staff person just for the ministry.
The building still looks like a church, still has the original beautiful stained glass windows, still has a dedicated space where the chancel once stood, and yet is set up for casual conversation while Christian music plays in the background. At times there is standing room only in this business that makes no bones about the fact that they are Christian. The proximity to the University gives them an ideal place to serve coffee as they subtly do ministry to all who come in. I was blown away by how a building that could have been empty and abandoned was being used in a new way for ministry. Somebody was thinking outside the box, and while the former ministry was no longer effectively reaching people, this new model seems to be planting seeds where the church just couldn't reach. (click here for photos of CRAVE)
On May 10 the Church celebrates Ascension Day, when Jesus ascended into heaven before the eyes of His confused disciples. Before He left them He gave them these familiar instructions from Matthew 28, "All authority in heaven and on earth has been given to me. Go therefore and make disciples of all nations, baptizing them in the name of the Father and of the Son and of the Holy Spirit, teaching them to observe all that I have commanded you. And behold, I am with you always, to the end of the age." Even as Jesus instructed His followers on the night of the Resurrection, so again, He was sending them into the world to tell those who had not yet heard the good news of the Gospel. This is the very same commission Jesus gives to each of us who claim Him as Lord. It gets at the natural craving the Spirit implants within us in the waters of Holy Baptism to connect people to Jesus!
Jesus never formalized how we are to reach people, only that we are to make disciples by baptizing and teaching. As we observe Jesus in the pages of Scripture we find that He often used some unusual tactics to share the good news, including spitting and spreading mud on the eyes of one, engaging a woman at a well in conversation, and feeding 5000 with only five loaves and two fish! It appears that Jesus used these occasions to meet the so-called "felt" need of these people so that a deeper need could be met! Jesus formed relationships with unbelievers so that He could share the good news of salvation with them.
In this post-modern world it takes more than simply opening the doors of a church to reach those who are lost. We need to think outside the box and take a risk for the sake of someone's eternal welfare and truly meet their spiritual need by first building a personal relationship with them. People don't care how much we know until they know how much we care!
That's exactly why we are endeavoring to partner with Five Two. While we always want to, and will, support the opportunities to plant new congregations, what is equally important is that we find ways to reach those who are not reached by the current structure of the Church. The days of someone walking into the church on a given Sunday on their own initiative is all but gone. It happens, but not very often. We are told there is a greater chance of a non-believer coming to worship if someone has spent time building a relationship with the non-believer and invites them, but even then it is becoming rarer.
What really seems to make a difference is when we actually live out the faith we profess. When our faith in Jesus becomes more than simply words of truth about Jesus, and the way we live actually starts reflecting Jesus in word and deed, it can have a huge impact on non-believers. This is really what is behind our mission strategy, and now having experienced CRAVE Coffeehouse, I crave this even more. Imagine starting a sustainable ministry that literally shows the love of Jesus and doesn't depend on Sunday morning offerings for survival. How could we leverage meeting needs in our communities, while at the same time providing a profitable non-profit service and planting seeds of the Gospel?
This is where our partnership with Five Two comes in. They are helping to train and coach ministry teams to do exactly that. I really believe that if each of the five regions in the District were to challenge themselves to start two new ministry starts per region for the sake of reaching more people with the good news of Jesus, in the next five years it would mean 50 new ministries working on behalf of the gospel. Imagine the huge number of potential people who wouldn't step foot in a church, but would have no problem coming into a coffee shop or ice cream parlor.
I remember the first time I tried Chick-fil-a. One of the things that impressed me was the spirit I encountered. The owner was obviously a Christian, and you could see those values being carried out by all the workers. I had the opportunity to meet Truett Cathy, the founder, years ago at a small business man's breakfast in North Georgia and speak with him personally. He shared that the Christian witness was not meant to be overt, but it was simply a reflection of his values. I could definitely sense that truth. In a similar way, our Founder, Jesus, calls each of us to reflect His values in our lives for all the world to see. It makes a difference.
As Jesus sent His disciples, now He sends each of us. He sends us to share the hope of eternal life. He sends us to tell of His forgiveness and love. He sends us as His messengers to reach the lost and erring. More important than how we do it is that we do it for the sake of Jesus. So it's time to think outside the box. Jesus says, "The harvest is plentiful, but the laborers are few; therefore pray earnestly to the Lord of the harvest to send out laborers into his harvest." Let's not just pray, but with His Spirit abiding within us, let each one of us actually go and make disciples, so that more people can be connected to Jesus! Amen?
In His Peace,