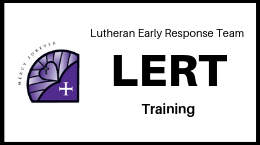 The Lutheran Church—Missouri Synod's disaster response ministry responds to immediate and long-term needs following natural and man-made disasters, working through LCMS districts and congregations, international Lutheran churches and other partners. We build partners' capacity to respond with Christian care to needs within the church and their communities.
God calls us to be His hands reaching out to bring what peace, relief and assistance we can to those who suffer the devastating effects of disasters.  To that end, the Florida-Georgia District is training congregation members to be certified as a Lutheran Early Response Team (LERT) member.   Training sessions around the District are scheduled for these locations in summer of 2019.  Each session is one day, from 9 am to 3 pm and costs $20 per person.   You can read more about LERT here.
The current LERT Training sessions are scheduled:
Georgia
Florida
REGISTER HERE FOR A SESSION NEAR YOU!