School Services & Programs
Barnabas Son of Encouragement Award – Next Award will be at Educators Conference in 2022
By God's grace, Pastors who are strong partners in their congregation's school ministry make a profound impact on what the school ministry team is able to accomplish. In 2015, Educators in the FG District established the "Barnabas, Son of Encouragement Award" to honor pastors for their support and partnership in the Gospel through school ministries.  
Who was Barnabas?
The Book of Acts presents Barnabas as an evangelizing apostle and church leader who was a model of integrity and character. He is called a "good man," a "prophet and teacher," an "apostle," and "one who through God worked miracles." Acts recount the times he faced persecution and risked his life for the name of Jesus. Barnabas believed that Saul had truly been converted when others expressed doubt and disbelief. He saw great potential in young John Mark and was a champion for both he and Saul at different times. 1 Corinthians affirms his character by noting he worked while serving congregations to avoid burdening them. The apostles nicknamed him "Barnabas – Son of Encouragement."
To nominate a pastor for this award, complete the following form. 
Dr. Ben Eggers Outstanding Educator Award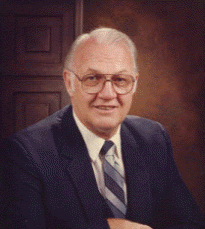 In 1986 our District Administrators Association began recognizing a "Teacher of the Year" at its annual Educator's Conference each Fall. Dr. Ben Eggers served as the FL/GA District Parish Services Executive from 1979-1986 after serving as the youth ministry director for the LCMS. This position served all the schools in the district as well as the congregations. Ben (Gentle Ben) was a robust man, passionate about his love for the Lord and a love for the Lord's people. He was a visionary who appreciated the ministry of every teacher, administrator, and support staff member in our schools. He had high expectations of those in ministry and loved having a good time. Ben knew how to enjoy a party. He was one of those rare individuals who just seemed to have it all together. He could recall the name of every person he had ever met. But Ben didn't just remember names; he remembered people, and there is a difference. Ben was an advocate for our schools and a true encourager of our educators in their ministry. On May 21, 1993, Ben died very suddenly after delivering a keynote address at the Walther League Convention.
In the Fall of 1993, the Administrators Association renamed the "Teacher of the Year" award the "Dr. Ben Eggers Outstanding Educator" award. Ben's wife Lillian presented the first award at the 1993 Educators Conference at the Walther League Convention. In the Fall of 1993, the FG District Administrators Association renamed the "FG District Teacher of the Year Award" the "Dr. Ben Eggers Outstanding Lutheran School Educator Award." Dr. Egger's wife, Lillian, presented the first award at the 1993 District Educators Conference. To date, over fifty educators have been honored with the award.
To nominate an educator:

Educators and administrators who have completed 10 years of service in LCMS school ministry, including a minimum of 5 years in the FLGA District, may be nominated. Nominees should exemplify Christian leadership and service to their school, church, and community. Submit the
nomination form
and supporting documents to
Cindy Hammerstrom
by August 31 for consideration.
The purpose of Lutheran School Consulting Services (LSCS) is to strengthen and revitalize Lutheran schools so God's children are well served and His kingdom expanded.  LSCS focuses on the school and its ministry.  As schools are strengthened, so are congregations and their ministries.
For more information, download a brochure.
Master In-service Program for Florida Schools and Teacher Certification
The Master Inservice Program (MIP) is the only portal for teacher certification in the state of Florida. Schools in the state of Florida must register annually for MIP.
Through a partnership with SchoolMission and ACSI, teachers and administrators receive inservice points toward recertification by attending conferences, workshops, school in-service sessions, classes, or seminars.
Schools access MIP at SchoolMission. Dr. Barry Morris is the manager for this program. He is highly trained, extremely knowledgeable, and available to answer questions. Contact Dr. Morris at support@schoolmission.net or support_adm@schoolmission.net or call601-467-2631.
Annual Registration for Participation
Each year schools must register and pay the annual fee for the program, which runs from July 1-June 30th.
2023 MIP Registration for FLGA District Schools
2023 MIP Registration for other Lutheran Schools
• Registration and payment are due in the District office by June 20th.
• Email your registration to chammerstrom@flgadistrict.org.
• Pay online at FLGA payments
Florida Educator Certification Steps
Information for first-time Florida certification can be found on the FDOE website.
Applicants must be fingerprinted through a Livescan vendor and submit the results to the FDOE. See Fingerprint Processing Instructions for additional directions.
Renewal Requirements
Teaching certificates must be renewed every five years. Renewal requirements include:
• Six hours of college credit or its equivalent of 120 inservice credit points
• 20 of the 120 points must be in the Students with Disabilities category
• 60 of the 120 points must be in the field of certification
• 40 of the 120 points must be in reading if your certificate covers PreK-6 or if your certificate is in Reading or English
for grades 5-12 (See Reading Renewal Requirements for more details)
• Complete details for renewal being on page 5 of the MIP Manual
Inservice Points
Inservice points must correspond to an approved MIP component for a teacher to receive credit toward recertification. Points are recorded within MIP using a component number provided here: Master Inservice Plan Component List
A Professional Learning Catalog provides links for inservice in many categories, including Students With Disabilities and Reading. It is not a comprehensive list, simply a starting place if you are looking for approved professional development options.
Have questions? Need answers? Please contact: