Miramar Learning Center, in Miramar Florida is the first recipient of a Kingdom Seeds Grant.  Sonrisa Howey, who began the Learning Center shares the story!
A little history on how the Miramar Learning Center came to be…
At the end of the 2019-2020 school year, I began to feel out of place in the school I had been teaching at for 8 years. I wanted to continue teaching, but not in a school and was unsure what it should look like with the unknown of COVID-19. I started looking for a place that would be interested in helping me piece together this new idea I had of blending e-learning and tutoring. Miramar Lutheran Church caught my eye. In this church struggling to find its place in a changing community, I felt connected because I too was trying to find my new "place". The facilities were there, but needed so much work to be up and running properly. With your help in getting the grant we were able to clean up the room, purchase school supplies/ materials and advertise. Within the first week of opening I had parents eager for my help. They came to me with concerns of their kids falling behind this school year with everything being virtual.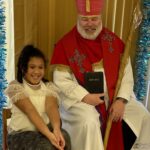 One of my students, Levi, came to me in third grade with a 2nd grade reading level. His mom was concerned he would score low on the winter testing and have to repeat. I worked with him every day for five weeks and was able to improve his reading scores. His mom came to me after receiving the test scores with so much joy and gratitude. She couldn't stop thanking me for the huge improvement her son was able to make.
Another student, Israel, came to me in 1st grade not even knowing his sight words. He also had missing assignments dating all the way back to the start of the school year and was failing. His mom was frantic and in need of help. Within two weeks we were able to catch up with all his work and get him back on track. As of now, he has been able to successfully pass ⅔ of his needed sight words. His mother is so grateful to have found help through our Learning Center.
I would love to grow the tutoring service over the summer as a learning enrichment program, which could then transition back to after school tutoring. Most recently, we hosted an event for St. Nicholas day to connect our school and church. I intend to host more events this upcoming year. I hope these events can bridge the gap between church and school and form a sense of community. My goal with the tutoring program is to not only help kids excel in their education, but to introduce them to God and help grow our church family.