The Florida-Georgia District desires to equip, empower and engage leaders and congregations to connect people to Jesus. There can be increased worry and fear, especially when it comes to Jesus' call to make disciples. Creativity and innovation are needed now more than ever. 
We want to be aware of our congregations' outreach work and tell the stories of God at work, so we can all celebrate how God continues to build His church…connecting people to Jesus.
To share these stories and encourage, inspire, and energize others in the District to reach out in new and exciting ways, we have launched: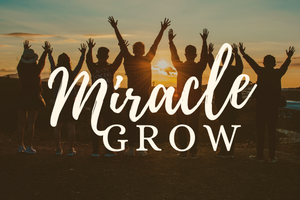 "Still other seed fell on good ground and it grew up, producing fruit that increased thirty, sixty, and a hundred times."
Mark 4:8
"It's like a mustard seed that, when sown upon the soil, is the smallest of all the seeds on the ground. And when sown, it comes up and grows taller than all the garden plants, and produces large branches so that the birds of the sky can rest in its shade."
Mark 4:31-32
Miracle Grow is designed to gather stories of what God is doing through our congregations and schools and share them. To accomplish this, Miracle Grow will offer a seed investment of $300 to congregations and schools who engage in and share their outreach and mission activity stories, pictures, and videos. The goal is for the people of the FLGA District to learn, share ideas and concrete examples, and celebrate God's mission of connecting people to Jesus.
Projects should be innovative outreach efforts that focus on the unique needs and people of the community. While new projects and ideas are highly encouraged, the seed investment is not limited to new ones. An existing outreach effort that is innovative or exciting is still eligible.
Initially, the limit is one Miracle Grow project per congregation. Schools are encouraged to participate in partnership with their sponsoring congregation(s).
Upon approval, Miracle Grow Investments of $300 are available for every congregation, youth group, LWML group, school, etc., that engages their community with an outreach project and shares their story (including pictures and/or video) with the District Office.
Applicants will submit stories with photos/videos within three weeks of the project or event's conclusion. Photos should be creative, show the event in action (not just preparations) and include activities at the event. Pictures and videos submitted will be used by the FLGA District office to promote the Miracle Grow Program.
Check out the Seed Sowers webpage for stories and ideas! You may have seen some stories in Lutheran Life or the District Newsletter. 
The application form is short and requires the signature of both the applicant and the pastor. Applications will be approved by the Executive Director of Missions and Outreach and FLGA District Executive Staff.   Approval is not guaranteed.
Please email the signed and completed form to Debbie Arrington.
This initiative began in February 2021.
For more information, contact: