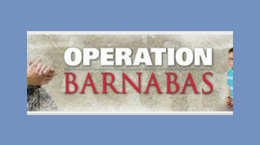 Dear Operation Barnabas Congregations/Chapters,
The March issue of "Warning Order: Operation Barnabas" features many great resources, including:
Opening devotion and prayer —  Encouraging one another is a common practice among military services members. The ethic of looking out for one another is something all members uphold. Acknowledging what God's Word says that "the righteous live by faith" (Rom. 1:17) allows this mindset to thrive among these individuals.
Fallen Heroes Report
— Chief Warrant Officer 2 Jonathan Farmer of Boynton Beach, Fla., died Jan. 16, 2019, in Syria.— Navy Chief Cryptologic Technician (Interpretive) Shannon Kent of Pine Plains, N.Y., died Jan. 16, 2019, in Syria.— Sgt. Cameron Meddock of Spearman, Texas, died Jan. 17, 2019, in Germany from injuries sustained in Afghanistan.— Sgt. 1st Class Joshua 'Zach' Beale of Carrollton, Va., died Jan. 22, 2019, in Afghanistan.

— Civilian Navy Seal Veteran Scott A. Wirtz.

Featured resource — The Veterans Administration seeks to enhance services to veterans through their Veteran-Friendly Community program. This effort has resulted in the formation of Community Veterans Engagement Boards (CVEB) across the nation.
"Adopt-a-Chap" — This program provides an opportunity for congregations to directly connect with, or "adopt," our Synod's armed forces chaplains, including active, Reserve and those serving in VA hospitals. The program links congregations with chaplains to promote mutual support and growth.
Events and resources for service members, veterans and families.
Thank you for your continued support and partnership in the LCMS Operation Barnabas project. As always, please contact LCMS Ministry to the Armed Forces with your questions and concerns at lcmschaps@lcms.org.
In Christ's Service,
Chaplain Craig G. Muehler
CAPT, CHC, USN (Ret)
Director, Ministry to the Armed Forces
The Lutheran Church–Missouri Synod
1333 S. Kirkwood Road
St. Louis, MO 63122-7295
314­-996­-1337
800­-248­-1930 Ext. 1337 (toll-free)
E-mail: craig.muehler@lcms.org
Cell: (571) 234­-0073
Connect and Support:
Donate to Support our Ministry to the Armed Forces
Facebook: www.facebook.com/MinistryArmedForces.LCMS
Web: www.lcms.org/armedforces
Instagram: @LCMSMAF
Twitter: @LCMSMAF