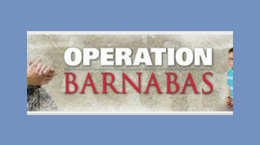 Dear Operation Barnabas Congregations/Chapters,
The December issue of Warning Order offers a great devotion and other great resources.
As part of the LCMS Ministry to the Armed Forces, Operation Barnabas strives to reach all those who are connected to our military and who have served our nation with the Gospel of Jesus Christ.
Through your dedicated works of mercy and compassion in reaching out to military families in your congregations and communities, you have delivered life-giving hope to many in your area of responsibility. Thank you!
Thank you for your continued support and partnership in the LCMS Operation Barnabas project. As always, please contact LCMS Ministry to the Armed Forces with your questions and concerns.
In Christ's Service,
Chaplain Craig G. Muehler
CAPT, CHC, USN (Ret)
Director, LCMS Ministry to the Armed Forces
In Christ's Service,
Chaplain Craig G. Muehler
CAPT, CHC, USN (Ret)
Director, Ministry to the Armed Forces
The Lutheran Church–Missouri Synod
1333 S. Kirkwood Road
St. Louis, MO 63122-7295
314­-996­-1337
800­-248­-1930 Ext. 1337 (toll-free)
E-mail: craig.muehler@lcms.org
Cell: (571) 234­-0073
Connect and Support:
Donate to Support our Ministry to the Armed Forces
Facebook: www.facebook.com/MinistryArmedForces.LCMS
Web: www.lcms.org/armedforces
Instagram: @LCMSMAF
Twitter: @LCMSMAF