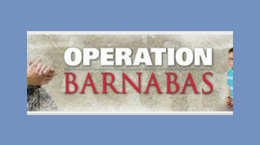 Dear Operation Barnabas Congregations/Chapters,
The May issue of Warning Order: Operation Barnabas features many great resources, including:
Opening devotion and prayer — During His ministry here on earth, Jesus cast out many demons from individuals. He continues to do so today, whether dramatically and immediately or slowly over many years. Nonetheless, those who have been healed are encouraged to tell how much the Lord has done for them and how He has had mercy on them.
Helpful websites — The list includes the National Association of Veteran-Serving Organizations and the National Chaplain Center.
"Adopt-a-Chap" — This program provides an opportunity for congregations to directly connect with, or "adopt," our Synod's armed forces chaplains, including active, Reserve and those serving in VA hospitals. The program links congregations with chaplains to promote mutual support and growth.
Fallen Heroes Report
— Specialist Jackson Johnson of Hillsboro, Mo., died March 7, 2019, in Kuwait.
— Sgt. Holli Bolinski of Pinckneyville, Ill., died March 7, 2019, in Kuwait.
Events and resources for service members, veterans and families.
Thank you for your continued support and partnership in the LCMS Operation Barnabas project. As always, please contact LCMS Ministry to the Armed Forces with your questions and concerns at lcmschaps@lcms.org.
In Christ's Service,
Chaplain Craig G. Muehler
CAPT, CHC, USN (Ret)
Director, Ministry to the Armed Forces
The Lutheran Church–Missouri Synod
1333 S. Kirkwood Road
St. Louis, MO 63122-7295
314­-996­-1337
800­-248­-1930 Ext. 1337 (toll-free)
E-mail: craig.muehler@lcms.org
Cell: (571) 234­-0073
Connect and Support:
Donate to Support our Ministry to the Armed Forces
Facebook: www.facebook.com/MinistryArmedForces.LCMS
Web: www.lcms.org/armedforces
Instagram: @LCMSMAF
Twitter: @LCMSMAF