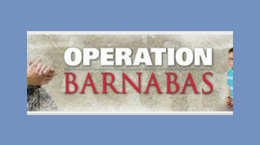 Dear Operation Barnabas Congregations/Chapters,
The October Warning Order is now available. Please click here to download or view it This issue has a great devotion and some more resources.
Operation Barnabas seeks to reach out to all those who are connected to our military and have served our nation with the Gospel of Jesus Christ.  Through your dedicated works of mercy and compassion in reaching out to those in your congregation and communities, you have delivered this life-giving hope to many in your area of responsibility (AOR).  Thank you!!
The U.S. Department of Veterans Affairs National Chaplain Center and Office of Rural Health established a national Community Clergy Training Program (CCTP) to educate faith communities about how they might better use their resources to support Veterans and family members who may otherwise feel isolated, alienated and helpless. The CCTP aims to increase rural clergy's ability to identify and support rural Veterans with reintegration challenges. Through the CCTP Train-the-Facilitator Initiative clergy members and other national partner organization representatives can gain the knowledge and tools to become a refuge, resource, and referral point for Veterans.
The CCTP has a team of trained VA Chaplain facilitators available to deliver training events in rural communities across the United States. Community clergy partners can bring a VA Chaplain to their local area for an interactive training covering four major topics:
"Military Culture and Wounds of War"
"Pastoral Care with Veterans and their Families"
"Mental Health Services and Referrals," and
"Building Community Partnerships"
The VA Chaplain leads and facilitates the training and provides training materials, at no cost to the community clergy partner. Partners help secure a training space and recruit attendees. Read more about the Community Clergy Training to Support Rural Veterans Mental Health and how you can work with a CCTP VA Chaplain Facilitator to deliver this valuable training in your community.
Thank you for your continued support and partnership in the LCMS Operation Barnabas project.  As always, please contact us at Ministry to the Armed Forces if you have any questions or concerns.
In Christ's Service,
Chaplain Craig G. Muehler
CAPT, CHC, USN (Ret)
Director, Ministry to the Armed Forces
The Lutheran Church–Missouri Synod
1333 S. Kirkwood Road
St. Louis, MO 63122-7295
314­-996­-1337
800­-248­-1930 Ext. 1337 (toll-free)
E-mail: craig.muehler@lcms.org
Cell: (571) 234­-0073
Connect and Support:
Donate to Support our Ministry to the Armed Forces
Facebook: www.facebook.com/MinistryArmedForces.LCMS
Web: www.lcms.org/armedforces
Instagram: @LCMSMAF
Twitter: @LCMSMAF